South Bay Plastic Surgeons
3640 Lomita Boulevard #306
Torrance, CA 90505
Phone: (310) 784-0644
Monday-Friday: 9 a.m.–5 p.m.

The Spa at South Bay Plastic Surgeons
3640 Lomita Boulevard #309
Torrance, CA 90505
Phone: (310) 784-0670
Monday-Friday: 9 a.m.–6 p.m.
Wednesday: 9:00 a.m.–8 p.m.
Saturday: 9 a.m.–4 p.m.

Breast Augmentation
At South Bay Plastic Surgeons in Torrance, CA, our breast augmentation specialists have helped hundreds of women from Los Angeles, Long Beach, Manhattan Beach, Redondo Beach, and other nearby communities achieve more feminine, shapelier breasts. Breast augmentation is one of the most popular procedures we perform, and many of our patients recommend friends or family members to our practice. It's important to understand that excellent, natural-looking results are not easily achieved; you should choose a skilled, board-certified plastic surgeon to guide you through the various preoperative decisions that will influence your final outcome.
Breast Augmentation

Before & After Photos
WARNING:
This feature contains nudity. Please click OK to confirm you are at least 18 years of age and are not offended by such material.
What Is Breast Augmentation Surgery?
Breast augmentation is a plastic surgery procedure that uses breast implants to provide a variety of improvements:
Restoring breast volume after pregnancy, breastfeeding, or weight loss
Increasing the size of naturally small breasts
Enhancing breast shape
Improving symmetry when the breasts are different sizes
How Much Does Breast Augmentation Cost in the Los Angeles Area?
Breast augmentation surgery typically costs between $7,000 – $10,000 in the Los Angeles area, but this price varies widely depending on a number of factors. The type of implant used in your surgery, the placement of your implants, and your unique goals are just a few issues that influence your breast augmentation price. During your consultation, one of our plastic surgeons will discuss the available options. Once you and your surgeon have determined the course of your procedure, we'll provide you with a personalized cost estimate.
The Benefits of Breast Augmentation
Getting breast implants is a decision that most patients carefully consider for months, or even years, before they undergo surgery. For women who have been self-conscious about their bodies for much of their lives, or for those who have lost volume over time, the physical transformation is often matched by increased self-esteem and confidence. Patients who have realistic expectations about the procedure's results and who are pursuing breast enhancement for themselves, and not based on what someone else thinks, tend to be extremely satisfied with the outcome.
Breast Augmentation vs. Breast Lift
Breast augmentation adds fullness to the breasts; a breast lift raises and reshapes them. Women who want to restore volume lost after having children may need to combine breast augmentation with a breast lift if their breasts are sagging.
"I was referred to South Bay Plastic Surgeons by a friend for my breast augmentation surgery. They were beyond wonderful. Everything was easy and they are so accommodating with scheduling…They are the best!"
— Yelp user J.K. from Palos Verdes Peninsula
Why Choose Us for Your Breast Augmentation Surgery?
South Bay Plastic Surgeons is committed to our patients' safety and satisfaction. We strive to deliver exceptional results in a number of ways:
Safety: Our surgeons use the Keller Funnel® to perform a "no touch" implant placement that decreases the risk of capsular contracture.
Minimal Scarring: We use multiple-layer suture closure to encourage the best possible incision healing.
Implant Sizers: During consultations, we provide sizers that allow you to "try on" various implant sizes in order to achieve the most symmetrical result possible.
3-D Imaging: We use the VECTRA® 3-D imaging system to help you visualize and adjust your outcome before surgery.
Comfort: To minimize post-op discomfort, we inject local medication during the procedure.
Implant Options: We offer saline, form-stable silicone ("gummy bear"), and structured ("ideal implant") options.
A Reputation Built on Results
Dr. Rendon is Awesome! He did a wonderful job on my breast reduction. He was considerate, compassionate,...
I had two consultations at South Bay Surgeons, and I immediately felt comfortable with Dr. Newman....
Breast Augmentation Options
The key to choosing a plastic surgeon who can give you the results you are looking for is finding one who uses specialized techniques instead of relying on a favorite method and ignoring your individual needs. There are many options available to tailor the results to your expectations. The women who visit us for breast enlargement have a variety of implant choices, particularly when it comes to material, size, and shape. Some patients prefer fat transfer breast augmentation instead of implants. In some cases, your surgeon may recommend a breast lift in addition to the breast enlargement procedure to improve both the shape and size of your breasts. Learn more below about some of the factors you'll need to decide on prior to your augmentation procedure.
What shape implants should I get?
Standard round implants are dome-shaped. They provide the upper breast fullness that has become popular in magazines and on television. Anatomical implants, on the other hand, are somewhat teardrop-shaped and provide a more natural appearance. With anatomical implants, patients can augment and enhance their breasts and look like they never had surgery.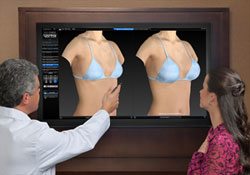 How do I choose a breast implant size?
Implant sizes are measured in cubic centimeters, or cc, rather than bra cup sizes, which can be inconsistent. You probably have a size in mind that you'd like to achieve, but it's important to remember that sizes can look a lot different on 2 different women, depending on how much breast tissue they already have. We'll measure you and make a recommendation that meets your goals. You can also schedule a consultation with our specialist, and we'll use our VECTRA® 3-D imaging system to see how you could look with different size and shape options.
Which implant material is better saline or silicone?
Our surgeons are skilled in performing breast augmentation using either saline or silicone breast implants. Your surgeon will talk with you in more detail about the benefits of each implant type so you can make an informed choice based on your priorities. Here's a look at the advantages of each:
| Saline Implants | Silicone Implants |
| --- | --- |
| Smaller incisions needed because implants are filled after being inserted, which also means size can be fine-tuned | Slightly longer incisions needed because implants are pre-filled |
| Cost less than silicone implants | Cost more than saline implants |
| Saline, a safe saltwater solution, is naturally absorbed by the body in the rare case of rupture | Form-stable silicone doesn't leak from the implant even in the rare case of rupture |
| It's obvious when they rupture | It's not obvious when they rupture, so regular screening to monitor implants is advised |
| Below-the-muscle placement preferred, particularly for patients with little existing breast tissue | Less likely to have visible rippling or wrinkling than saline implants, so they're a better choice for above-the-muscle placement |
| Firmer, less natural feel | More natural look and feel |
What is the Ideal Implant® made of?
The Ideal Implant represents an exciting new alternative to traditional saline and silicone implants. The implant is filled with saline, but it has baffles, or layers, that make it feel more like silicone. The Ideal Implant incorporates patented technology, allowing it to feel more similar to silicone and more like natural breast tissue. The baffle technology also reduces the chance of rippling or firmness that some patients complained of with saline implants in the past.
The Ideal Implant was approved by the FDA in 2014 with availability to a limited number of surgeons across the country starting in late 2015. South Bay Plastic Surgeons is proud to be able to offer the Ideal Implant to patients in Manhattan Beach, Hermosa Beach, Redondo Beach, Torrance, Long Beach, and other communities throughout the Los Angeles area. We encourage you to come in for a consultation with one of our surgeons to see the Ideal Implant for yourself. Our surgeons can then help you decide if the Ideal Implant is the right choice for you.
Ideal Implant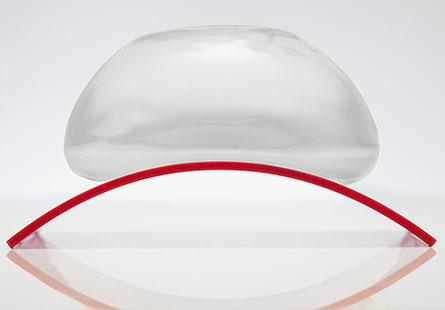 Standard Silicone Implant
Photos courtesy of Ideal Implant Incorporated
Is it better to get breast implants over or under the chest muscle?
During your augmentation procedure, your surgeon creates a pocket in each breast that holds the implant. That pocket can be in 1 of 2 places: just behind the breast tissue but in front of the chest muscle (left) or behind the muscle (right). The decision about where to place the implant is influenced by physical factors, the style and shape of the implants, and whether you lead an active lifestyle.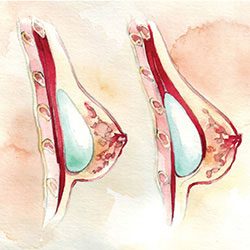 Implant above the muscle: Called subglandular placement, this option is a good choice for women with enough existing breast tissue to camouflage the implants. Visible rippling or wrinkling is more likely when the volume of breast tissue doesn't adequately cover the implant.
Implant below the muscle: Called submuscular placement, this option is a good choice for patients with thin skin and little breast tissue. It's also a common choice for women who are getting anatomically shaped implants because the muscle helps prevent the implants from rotating within the pockets. Implants that are placed below the muscle also allow for better visibility of breast tissue during mammograms. This can be important to women who have a family history of breast cancer.
Which incision is best for breast augmentation?
Breast augmentation incisions can be in 1 of 3 locations. You and your surgeon discuss the benefits of each choice to help you decide which is right for you.
Inframammary: This is a horizontal incision made just above the crease where the breast skin attaches to the chest. It is the most commonly used incision, and the resulting scar is not visible in a bra or bikini top.
Periareolar: This is a U-shaped incision made along the lower border of the areola (the darker skin surrounding the nipple). The resulting scar is hidden in the natural color transition from the areola to the breast skin.
Transaxillary: This incision is made in the armpit. This is a good choice for women who scar easily and are concerned about the visibility of incisions made on the breast itself.
All 3 of these incisions can be used to place implants over or under the muscle.
Can Breast Augmentation Surgery Be Combined With Other Procedures?
Yes. Our plastic surgeons frequently combine breast augmentation with other procedures to give patients multiple improvements with one surgery and recovery period. Many women combine breast augmentation with one or more of the following procedures:
When breast enhancement is combined with a body contouring procedure, it's often called a mommy makeover.
Is Breast Augmentation Safe?
While there is some risk associated with any surgical procedure, our experienced surgeons take exceptional care to safeguard your health during and after your breast enhancement procedure. For implant placement, our surgeons use a device called the Keller Funnel that often allows them to use smaller incisions, reduces contact and handling of the implant, and decreases your risk for capsular contracture. Also, we work only with board-certified anesthesiologists so you're safely monitored throughout your surgery, and we close your sutures with multiple layers to improve healing. During your consultation, your surgeon will discuss potential risks with you so you can make an informed decision about implants and surgical details.
How Long Does It Take To Recover From Breast Augmentation Surgery?
Recovery Tips
Prepare before surgery. Prepare a few meals ahead of time, tidy up your house, take care of errands, and have books, magazines, the remote, or a tablet computer at the ready.
Schedule your surgery near the end of the week, if possible. Most of our breast augmentation patients return to work about 5 days after the surgery.
Follow your doctor's orders. Patients who stick to their plans tend to heal and recover the quickest.
Move around. You won't be running right off the bat, but it's important to get up and walk around on the day of your surgery.
The advanced surgical techniques our surgeons use help patients recover with minimal discomfort in only a few days. Breast augmentation is an outpatient procedure, so you'll need someone to drive you home and stay with you for at least 24 hours. You are encouraged to rest in the days immediately after surgery. Any discomfort is manageable with prescription and over-the-counter medications. Our office can also arrange a pain pump for those patients who are especially susceptible to pain. We will provide instructions for taking care of your incisions, bathing, and other details.
Although each patient's recovery experience is unique, most are comfortable returning to work and their regular activities in about 5 to 7 days. You should start walking as soon as you can after your procedure, and you can resume other exercise gradually over the following weeks as your incisions heal and your swelling subsides. Your surgeon will clear you for certain activities during follow-up appointments. You can also contact us at any time with questions.
For additional recovery information, review the following blog posts written by our breast augmentation experts:

Meet Our Surgeons
Our team of board-certified plastic surgeons provides an unmatched combination of training, experience and specialization for optimal care.
Common Breast Augmentation Questions
What is the best sleeping position after breast augmentation surgery?
Your surgeon will instruct you to sleep on your back with your upper body slightly elevated for a short period following your surgery. This position allows your incisions to heal undisturbed and your implants to settle correctly. You can achieve this optimal position by sleeping in a recliner or stacking pillows behind your upper body. You may want to place pillows against your sides, too, to support your body and prevent yourself from rolling over during the night.
Are breast implants or fat transfer breast augmentations best?
One isn't better than the other; they are merely different options for you to consider. There are pros and cons to each procedure, and our surgeons work with patients to determine the best option for their goals and body composition. Fat transfer breast augmentation allows us to take fat from one area of your body using liposuction and inject it into your breasts. This fat transfer creates a subtle, natural-looking increase in your breast fullness and size, but it's usually limited to an increase of one cup size. Breast implants offer greater variety in size, shape, and profile, and they create more predictable results.
Will I need to wear a special bra after breast enhancement surgery?
Yes, we will provide you with a special soft bra that does not have underwires to wear after your procedure. This special bra will provide support and compression until swelling dissipates and your breasts have healed.
How long before my implants drop into their final position?
Right after surgery, many breast augmentation patients notice their breasts sit higher and feel tighter than they'd like them to be. With a bit of patience, the implants will "drop and fluff" as tissues stretch and swelling fades away. Most patients notice improvement in about 4 to 6 weeks and reach their final soft, natural-looking results in about 3 months.
How is a breast augmentation revision different from an initial breast augmentation?
A breast augmentation revision is more complicated than an initial augmentation. Revision surgery frequently involves removing scar tissue, repairing the implant pocket, addressing silicone leakage, and correcting other breast implant issues. Also, we often don't have all the information we need before performing revision surgery. We not only can't see what a patient looked like before their initial breast augmentation, but we also don't always have information about their current implants. In contrast, initial breast augmentation surgeries are more straightforward, and their potential issues are more easily anticipated.
Is breast augmentation used in breast reconstruction surgery?
Implant breast reconstruction is performed much like breast augmentation. The implant is placed beneath the breast skin and muscle; however, with reconstruction, the breast tissue has been removed during a mastectomy.
To find out if breast augmentation can give you the enhanced breast size and shape you want, request a consultation online, or call South Bay Plastic Surgeons at (310) 784-0644 and one of our helpful staff members will schedule your appointment.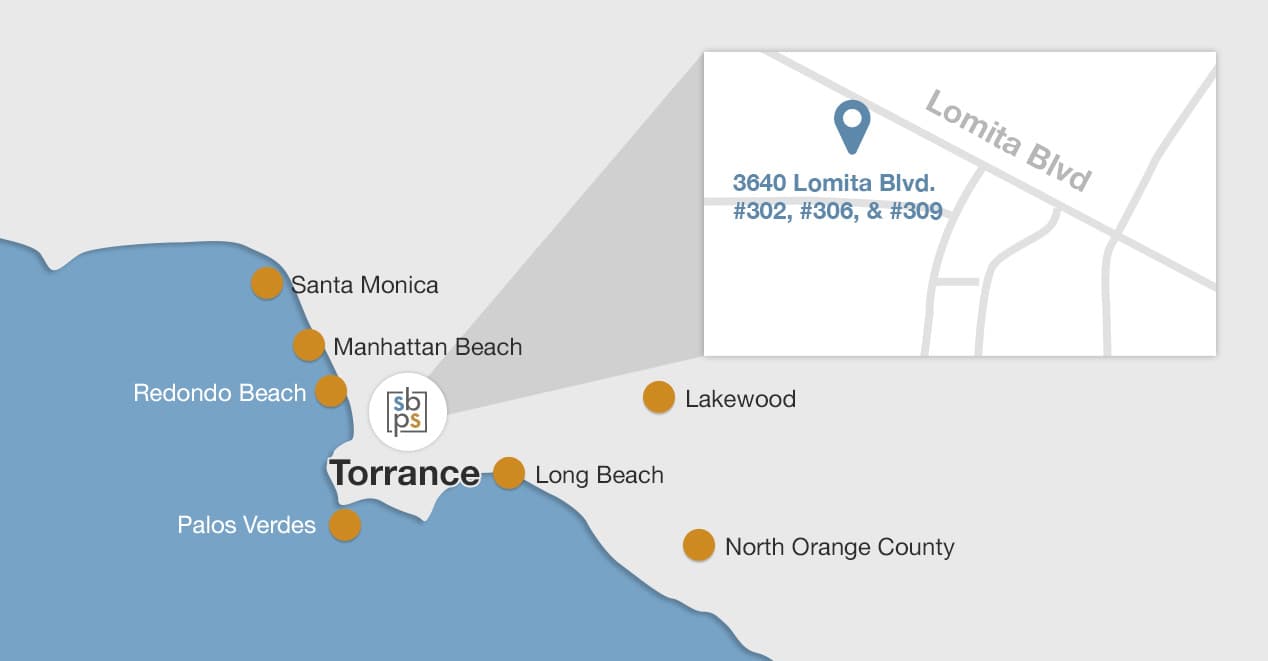 Back to Top