South Bay Plastic Surgeons
3640 Lomita Boulevard #306
Torrance, CA 90505
Phone: (310) 784-0644
Monday-Friday: 9 a.m.–5 p.m.

The Spa at South Bay Plastic Surgeons
3640 Lomita Boulevard #309
Torrance, CA 90505
Phone: (310) 784-0670
Monday-Friday: 9 a.m.–6 p.m.
Wednesday: 9:00 a.m.–8 p.m.
Saturday: 9 a.m.–4 p.m.

Tummy Tuck
Abdominoplasty, often called a tummy tuck, involves the removal of excess skin and fat with simultaneous tightening of the abdominal muscles. "Tummy tuck" is a simplistic term for a complex surgery. At South Bay Plastic Surgeons in Torrance, our physicians are experienced in the intricacies of customizing this procedure for people after massive weight loss, pregnancy, or simply the body changes that accompany aging. Tummy tuck surgery is popular with the women and men who visit us from Los Angeles, Long Beach, and Manhattan Beach, CA, and other surrounding cities.
Tummy Tuck

Before & After Photos
WARNING:
This feature contains nudity. Please click OK to confirm you are at least 18 years of age and are not offended by such material.
What are the benefits of a tummy tuck?
Through a tummy tuck, women and men can achieve a slim, tightened look that often can't be achieved with diet or exercise alone. Once the abdominal skin and muscles have been stretched to a certain point, it is almost impossible to reduce this excess tissue without surgical intervention.
Many people come to our office for liposuction thinking it will flatten their abdomens. However, excess fat is only part of the problem; stretched skin and lax abdominal muscles must be addressed, as well. After pregnancy, for instance, excess fat and skin remain and the stretched abdominal muscles protrude, giving the appearance of a "gut." During a tummy tuck, the surgeon removes the excess skin and fat and tightens the muscles to flatten and firm the abdominal area.
"Where do I begin? You are responsible for some very significant changes in my life, which have brought me considerable happiness! I am so grateful for your help. Thanks so much for performing the recent abdominoplasty. The surgery and the post-op recovery all went quite smoothly."
— D.
Read more patient testimonials.
Tummy Tuck at SBPS: What Sets Us Apart
Our skilled board-certified plastic surgeons work to deliver exceptional tummy tuck results and make recovery as quick and comfortable as possible. We achieve this through a number of factors:
Enhanced Comfort: During the procedure, we inject EXPAREL®. This is a long-lasting local anesthetic that numbs the abdomen for more comfort and mobility during recovery.
Minimal Scarring: Our surgeons use multiple-layer suture closure to encourage the best possible incision healing.
A Reputation Built on Results
I had first stage breast cancer 8 months ago and had mastectomy surgery then had breast reconstruction...
It's been a year since Dr Jewell performed my thigh lift surgery. I have always been happy with my surgery...
I would highly recommend Dr. Jewell. I had breast cancer in 2015 and the reconstruction was completed...
I have nothing but praise for Dr. Juan Rendon. His compassion, understanding, care, and thoroughness...
Renewing Your Body After Pregnancy
Pregnancy and childbirth can permanently alter the abdomen, as well as the breasts and other areas. Many mothers choose to have a tummy tuck as part of a mommy makeover, a combination procedure that simultaneously addresses many areas of the body affected by pregnancy.
Tummy Tuck After Massive Weight Loss
The stomach is a problem area for many people. Slow to relinquish extra pounds and stubborn to respond to exercise, this area often retains excess fat longer than other parts of the body. If you have reached a healthy weight for yourself and still have problems with a "pooch" or flabby tummy, post weight loss plastic surgery that includes a tummy tuck could be the answer for you.
Our plastic surgeons can include a tummy tuck as part of a circumferential body lift where excess skin and tissue are removed all the way around the abdomen, also known as a belt lipectomy. Circumferential body lifts are more common for people who have lost massive amounts of weight, especially after gastric bypass surgery, as did the patient pictured below.
Before & After Tummy Tuck With Body Lift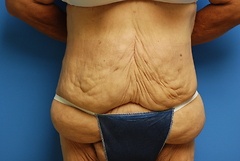 Before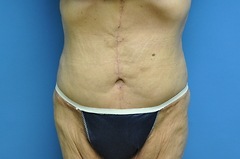 After
This woman, age 55, lost a total of 140 pounds after gastric bypass surgery. A team of our plastic surgeons performed a complex body contouring procedure that included an extended abdominoplasty, panniculectomy, and belt lipectomy. Five pounds of excess skin and subcutaneous tissue were removed.
*Keep in mind that each patient is unique and your results may vary.
What is the best tummy tuck procedure?
The best tummy tuck for you depends on your specific anatomy and cosmetic goals. Our plastic surgeons customize each tummy tuck procedure to the unique needs of the patient. Options, pictured below, include:
Full tummy tuck removes excess stretched, loose skin from the abdominal region below the ribs to the pubic bone. This option usually involves repositioning the belly button.
Extended tummy tuck, often performed as part of a circumferential body lift, removes excess skin and tissue all the way around the midsection. The belly button is often repositioned or recreated, as well. Circumferential body lifts are common for people who have lost a massive amount of weight, especially after gastric bypass surgery.
Mini tummy tuck is appropriate for a select few patients whose upper abdomen is relatively firm and who want to tighten loose skin below the belly button. This option involves a shorter incision and reduced recovery time compared with the full tummy tuck. The belly button is not affected by this technique.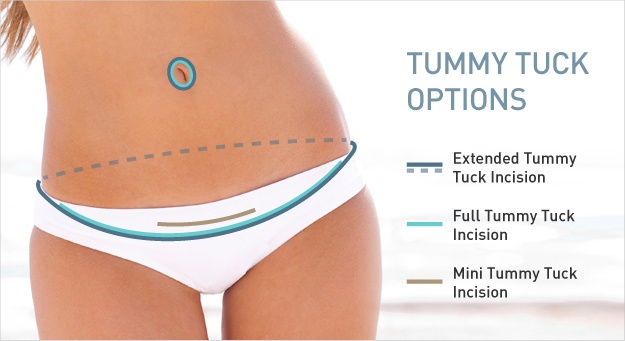 Recovery Tips
Designate a helper to help care for you and young children if you have them. A little support up front will increase the likelihood of a smooth, quick recovery.
Sleep in a recliner instead of a bed initially to keep your abdomen flexed and make getting up easier.
Take it easy, but get up and move within the first couple days of surgery to speed up healing and minimize complications.
What can I expect after a tummy tuck?
Our surgeons perform tummy tuck surgery as an outpatient procedure, so you can expect to return home the day of surgery. Combined procedures, such as a mommy makeover or body lift, may require a short hospital stay. It's important to have a family member or friend drive you home.
Our tummy tuck patients usually return home with an ON-Q* pain pump that automatically releases numbing medication for the first few days after surgery. Your surgeon will remove the pain pump at one of your follow-up appointments. You will also need to wear an abdominal compression garment at all times for 2 weeks to provide support and minimize swelling as you heal.
How soon can I go back to work after a tummy tuck?
The time frame for returning to work depends on the type of work you do, but these are some general guidelines:
If you can sit down at your job and it is not strenuous, you will likely be ready to go back after about 2 weeks.
If you stand for long periods of time, you may need to take 3 to 4 weeks off.
If your job is strenuous, you will need stay off work for about 6 weeks.
Your surgeon will make sure you understand what to expect after surgery when you meet for your consultation and pre-op appointment.
If you have any questions about tummy tuck surgery, request a consultation using our online form or call South Bay Plastic Surgeons at (310) 784-0644 and one of our helpful staff members will schedule your appointment.

Meet Our Surgeons
Our team of board-certified plastic surgeons provides an unmatched combination of training, experience and specialization for optimal care.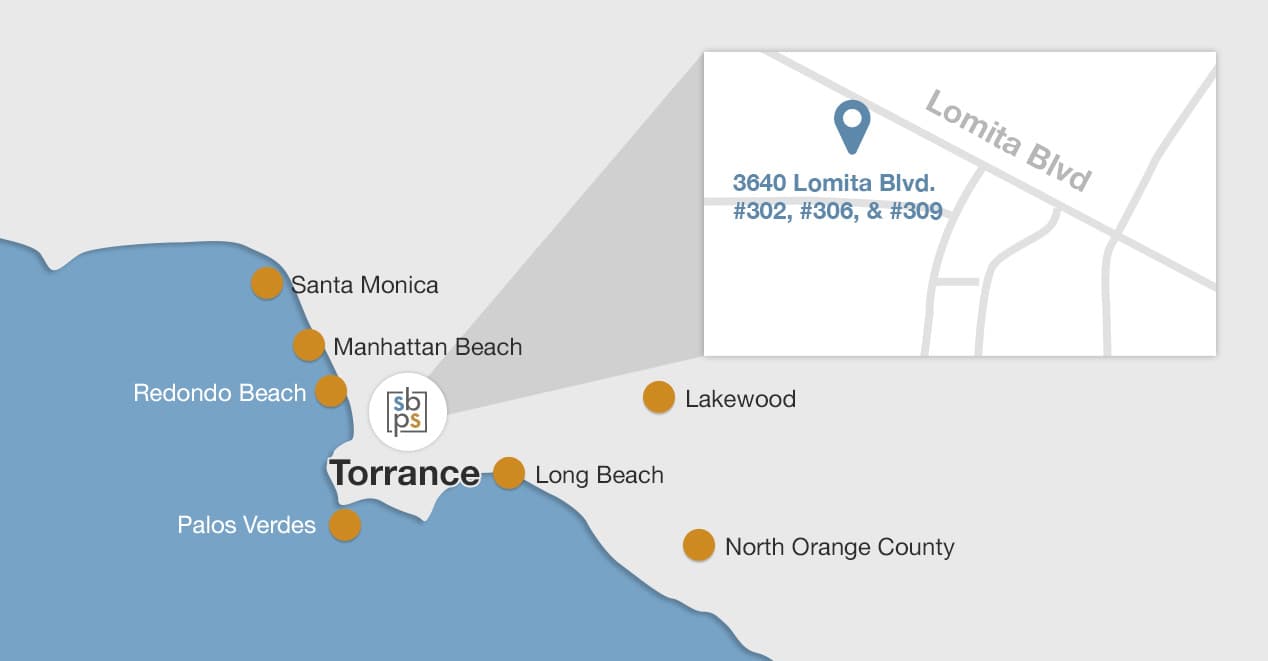 Back to Top