South Bay Plastic Surgeons
3640 Lomita Boulevard #306
Torrance, CA 90505
Phone: (310) 784-0644
Monday-Friday: 9 a.m.–5 p.m.

The Spa at South Bay Plastic Surgeons
3640 Lomita Boulevard #309
Torrance, CA 90505
Phone: (310) 784-0670
Monday-Friday: 9 a.m.–6 p.m.
Wednesday: 9:00 a.m.–8 p.m.
Saturday: 9 a.m.–4 p.m.

Anti-Aging Chemical Peels
If your skin is dry, unevenly pigmented, or damaged, anti-aging chemical peels at our Torrance med spa can restore clarity, life, and radiance to your complexion. At South Bay Plastic Surgeons, we perform a range of chemical peels for our clients from the Hermosa Beach, Manhattan Beach, and Redondo Beach areas. These treatments are designed to help various skin types with varying degrees of intensity as needed.
Chemical Peels
Illuminize Peel
The Illuminize Peel from SkinMedica® is one of the gentlest peels our office performs. It is perfect for first-time chemical-peel patients, people with sensitive skin or mild skin imperfections, and anyone looking for brighter, more radiant skin with no downtime.
Vitalize Peel
The Vitalize Peel from SkinMedica uses the benefits of alpha hydroxy acids to provide a strong, but gentle treatment. After just 1 peel, you will notice improvement in your skin's texture and tone, lessening of fine lines and hyperpigmentation, and a healthier, more youthful appearance with little to no downtime. The Vitalize Peel is great for all skin types and gentle enough to use every 3 weeks for maximum benefits and glowing, healthy skin.
Rejuvenize Peel
The Rejuvenize Peel by SkinMedica is the strongest of the 3. The Rejuvenize peel permeates deep into the topmost layers of the skin. It thoroughly removes the visible layer of skin, causing it to flake away to reveal the younger, healthier, and clearer skin below. This peel penetrates deeply and is intended to treat moderate to severe skin imperfections such as sun damage, melasma, acne scarring, and fine wrinkles in as little as 1 treatment. This peel is great for most skin types. Downtime consisting of sensitized peeling skin can last for approximately 5 to 7 days.
Stimulator Peel
The Stimulator Peel by ZO® Skin Health is the perfect "red carpet" peel with no downtime. This peel is a combination of lactic, citric, and salicylic acid gentle yet strong enough to exfoliate the skin and stimulate cellular turnover to improve skin tone, texture, and clarity. The combination of alpha hydroxy acids this peel contains is great for all skin types and is specifically helpful in reducing the appearance of age spots and hyperpigmentation, softening fine lines and wrinkles, and even treating acneic skin.
ZO Three Step Peel
The ZO Three Step Peel is an innovative, in-office chemical exfoliation followed by an at-home treatment to combat the signs of skin aging. This peel is ideal for treating melasma, sun damage, fine lines, uneven texture, large pores, dull skin, and acne. Key ingredient retinol, also known as vitamin A, improves overall skin health by stimulating proper cellular function at the dermal layer while simultaneously repairing damage at the epidermal level. Moderate peeling can last for up to 6 days, resulting in renewed, healthier-looking skin and a more uniform complexion.
Radiance Peel
The ZO Radiance Peel offers a unique blend of acids to provide gentle yet effective resurfacing. Ingredients such as salicylic acid, glycolic acid, lactic acid, and calming botanicals such as willow bark and licorice root help to eliminate blemishes, acne scars, wrinkles, uneven pigmentation, and sun damage while improving overall texture and tone. These dead cells are replaced by healthier ones, allowing the skin's own clarity and tightness to resurface.
MicroPeel 20
SkinCeuticals'® MicroPeel is a clinical strength chemical peel solution using 20% glycolic acid and vitamin C to reduce the appearance of fine lines and wrinkles, hyperpigmentation, laxity, dullness, and imperfections. This peel removes a micro-thin top layer of the epidermis. This layer of the skin consists of clogged pores that obstruct the development of healthy, beautiful skin.
MicroPeel Plus
SkinCeuticals' MicroPeel Plus is a unique 1-step treatment of chemical exfoliation designed to reduce acne and help correct post-inflammatory pigmentation and environmental skin damage. MicroPeel plus is formulated with a combination of salicylic acid & glycolic acid. The salicylic acid refines pores, helps control acne, reduces oil production, and removes excess skin cells and skin debris. Glycolic acid aids in improvement of rough texture, blotchiness, and uneven skin tone.
MicroPeel Sensitive
Skinceuticals' MicroPeel Senstive is the optimal chemical peel for first-time peel patients, patients with sensitive, dull, dry skin, or someone that needs a little freshening up before an event. This gentle combination of 2% lactic acid, niacin, and usnic acid is suitable for all skin types. MicroPeel Sensitive can be performed every 2 to 4 weeks.
Pigment Balancing
SkinCeuticals' Pigment Balancing mask contains a mixture of a glycolic acids and l-ascorbic acid. When mixed, this solution becomes a medium-depth peel which is specifically designed to dramatically lighten dark spots and refine uneven skin tone and texture of sun damaged skin. This treatment does not contain hydroquinone but has similar effectiveness to prescription strength 4% HQ. For the best results, combine this treatment with SkinCeuticals' Pigment Regulator or other medical grade hydroquinone prescriptions.
Advanced Corrective Peel
Formulated with an exclusive blend of clinical grade acids and maximized concentration of phenylethyl resorcinol, the Advanced Corrective Peel dramatically diminishes the appearance of discoloration, while smoothing texture and refining the appearance of pores, to restore a brighter, more clarified skin tone.
The Perfect Derma Peel
The Perfect Derma Peel is a unique peel that combines glutathione, kojic acid, TCA, retinoic acid, phenol, salicylic acid, and vitamin C. Alone, the ingredients are powerful, but the combination of these gold standard ingredients delivers amazing results. This peel is painless, and in some circumstances requires no skin pre-treating. Moderate peeling can last anywhere from 5 to 7 days. "Boosters" can be added to the peel solution to strengthen the ingredients and deliver better results for more severe skin conditions.

A Reputation Built on Results
Wonderful experience. Really professional and friendly staff. Love the results. Jeremy is the best,...
Had a Facial. It was amazing.
She does my facials and makes me feel so calm and relaxed after my treatment.
I am so thankful to have been referred to these professionals for all of my skin care needs. Everyone...
Facials
HydraFacial®
The HydraFacial treatment is one of the newest advances in noninvasive skin resurfacing. HydraFacial is the only hydradermabrasion procedure that combines cleansing, exfoliation, chemical exfoliation, extractions, and hydration while simultaneously infusing antioxidants, resulting in clearer, more beautiful skin with no discomfort or downtime. The HydraFacial treatment improves the appearance of fine lines, wrinkles, congested and enlarged pores, oily or acne-prone skin, hyperpigmentation, and brown spots. It is suitable for all skin types.
Standard Facial
During the 60-minute facial, our focus will be on correction. Our skin therapists will start with a skin analysis to determine what can be improved. We use a number of different modalities and techniques such as sonic cleansing, double exfoliation, extractions, pressure point massage, lymphatic drainage, LED therapy, and skin-specific serums and treatment masks. Each facial is customized for different skin types.
Express Facial
All the benefits included in a regular facial condensed into 30 minutes. Perfect before a night out or during a long work day, this facial includes a double cleanse, exfoliation, extractions, and a luxury treatment mask to help bring back your healthy glow with no downtime. We recommend facials every 4 to 6 weeks to maintain healthy, youthful skin.
For more skin rejuvenation options, you may consider microdermabrasion or CO2 fractional resurfacing.
If you would like to learn more about anti-aging chemical peels in Torrance, request a consultation online, or call South Bay Plastic Surgeons at (310) 784-0644 and one of our helpful staff members will schedule your appointment.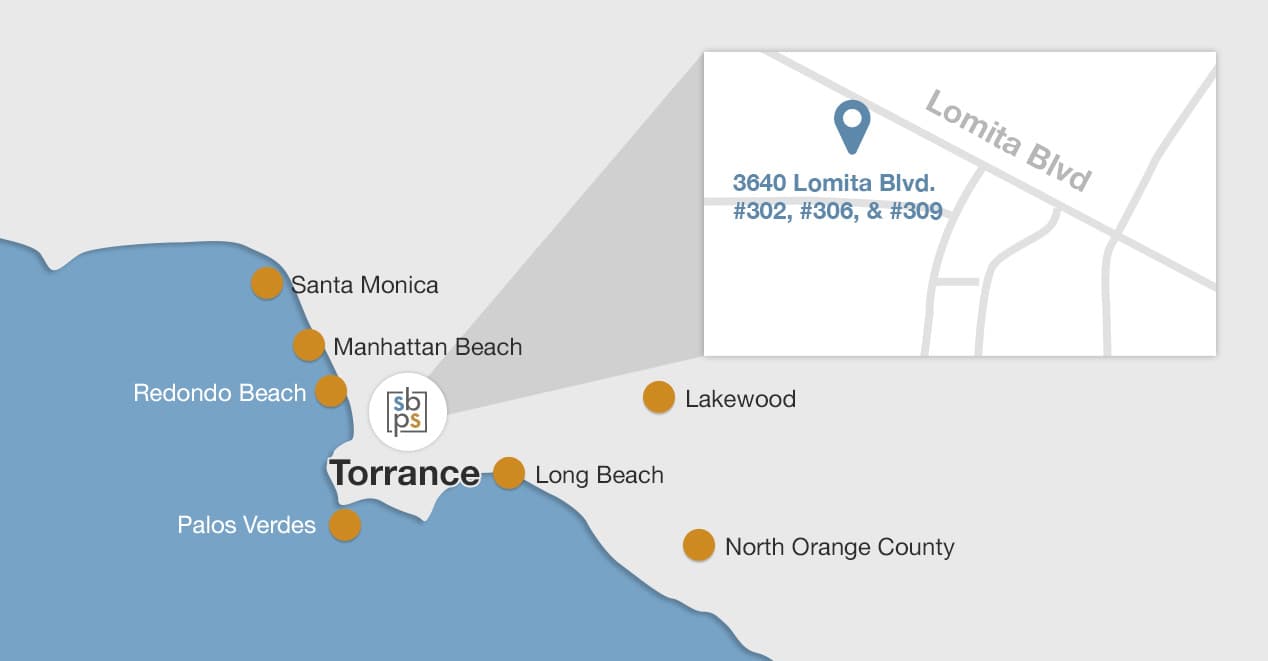 Back to Top