South Bay Plastic Surgeons
3640 Lomita Boulevard #306
Torrance, CA 90505
Phone: (310) 784-0644
Monday-Friday: 9 a.m.–5 p.m.

The Spa at South Bay Plastic Surgeons
3640 Lomita Boulevard #309
Torrance, CA 90505
Phone: (310) 784-0670
Monday-Friday: 9 a.m.–6 p.m.
Wednesday: 9:00 a.m.–8 p.m.
Saturday: 9 a.m.–4 p.m.

BOTOX® Cosmetic
Plastic surgeons use some pretty amazing treatments to enhance the appearance of the human body. BOTOX® Cosmetic, along with its close cousins Dysport® and Jeuveau™ (all offered by South Bay Plastic Surgeons) are no exception. This safe, simple procedure smoothes wrinkles around the eyes and forehead with natural-looking results. At The Spa at South Bay Plastic Surgeons, we offer BOTOX treatments in Torrance to patients from Long Beach, Manhattan Beach, Redondo Beach, and Hermosa Beach, CA, and surrounding Los Angeles areas who want to look and feel younger.
If you would like to visit our medical spa for BOTOX and other facial rejuvenation treatments, request a consultation online, or call South Bay Plastic Surgeons at (310) 784-0644 and one of our helpful staff members will schedule your appointment.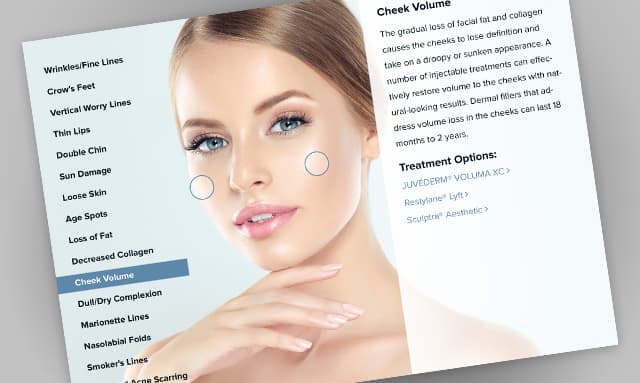 Don't know what you need?
Knowing which treatments are best-suited for your concerns can be confusing. Our interactive Treatment Planner is an easy-to-use guide to various skin conditions and the therapies our skin care specialists recommend.
Plan Your Treatment
How does BOTOX work?
BOTOX Cosmetic treatments involve the injection of onabotulinumtoxinA (or botulinum toxin type A) into the muscle under the skin. This procedure is safe and gentle, and the result is quite remarkable. Once injected into subdermal muscle (muscle under the skin), BOTOX Cosmetic paralyzes the muscle, releasing the overlying skin.
What does that mean for you? Wrinkles and other contour defects in the skin will be released from the underlying muscle and disappear. This paralysis is not permanent, and the muscles recover after about 3 to 6 months.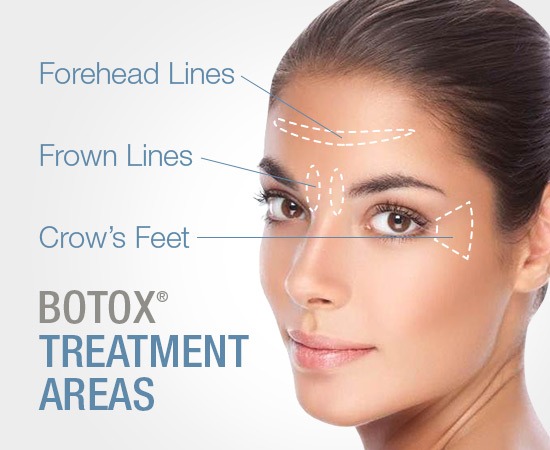 The Benefits of BOTOX Treatments
We use BOTOX Cosmetic to treat lines and wrinkles caused by the contractions of facial muscles, including:
Crow's feet at the corners of the eyes
Frown lines between the brows
Horizontal lines on the forehead
Can BOTOX be used to treat conditions besides wrinkles?
A slightly different formulation of BOTOX is also used worldwide for a number of medical concerns, including:
Eye spasms
Excessive sweating
Migraine headaches
How much does BOTOX cost in the Los Angeles area?
This depends on which areas you would like to treat and how extensive your concerns are, which determines how many units of BOTOX Cosmetic are necessary. We can provide a detailed quote after a qualified member of our team evaluates your skin.
A Reputation Built on Results
Jessica was my facialist and did a great job. My face felt great the rest of the day!
Wonderful experience. Really professional and friendly staff. Love the results. Jeremy is the best,...
Had a Facial. It was amazing.
She does my facials and makes me feel so calm and relaxed after my treatment.
How long after my BOTOX treatment will it take to see results?
You should begin to see fewer lines and smoother skin in the treated area within 7 to 10 days of your injections. Results usually last for 3 to 4 months.
"I had botox for the first time. Michele was gentle and the procedure was nearly painless. I was told results take as long as a week or so but my forehead already looks better. So glad I finally found one place I can get everything done by people I trust!"
— Lysandra H. on Yelp.com
Optimize Your BOTOX Results
1 week before treatment discontinue certain medications and supplements, including NSAIDS (ibuprofen, aspirin, naproxen), vitamin E, fish oil, and ginkgo biloba.
Skip alcohol the night before and 24 hours after your BOTOX treatment to minimize bruising.
Postpone vigorous exercise that elevates your heart rate until the day after treatment.
Avoid pressure on injection sites for the first few hours to prevent the BOTOX from spreading farther than desired.
Stay cool by keeping out of the sun until any redness or swelling has dissipated.
Combination Treatments
We often combine BOTOX treatments with injections of a dermal filler such as JUVÉDERM VOLUMA™ XC for more impressive results.
Your BOTOX Treatment
The BOTOX injection process is very simple. A qualified member of our medical team first performs a full assessment of your face and creates a personalized treatment plan with you. The injector then cleanses your skin and uses a fine needle to inject the BOTOX Cosmetic in precise spots of your face. This process takes just a few minutes.
BOTOX Treatment Plan
A continued course of BOTOX injections ensures wrinkles stay relaxed, giving patients a consistently refreshed and youthful look. Touch-up treatments are initially needed every 3 to 4 months after your first injections. Eventually, the targeted forehead muscles don't move as much, and injections often aren't needed as frequently.
BOTOX FAQ
As popular as BOTOX is at our Torrance medical spa, many of the women and men who visit The Spa at South Bay Plastic Surgeons still have questions about these treatments. Here, our plastic surgeons and staff have answered the most common questions they are asked.
Is BOTOX safe?
Numerous peer-reviewed studies published in scientific journals — the gold standard of medical research — have proved that BOTOX is safe and well tolerated for facial cosmetic procedures when used in multiple treatment sessions over an extended period of time and when administered by a qualified and trained healthcare professional. One of the studies concluded that BOTOX and other injectable treatments are essentially risk-free because serious side effects are so rare.
When will I see results?
Unlike injectable dermal fillers such as Restylane®, which simply fill in wrinkles, BOTOX takes a few days to work. You see results in about 7 to 10 days, and they last from 3 to 6 months.
Will my results look natural?
BOTOX injections are called technique-sensitive treatments. What that means is if the injector is qualified and has expertise in facial anatomy, the results achieve the cosmetic goals you want without limiting facial expressions. Our plastic surgeons and registered nurse injectors are experienced and inject BOTOX with precision to avoid unwanted results.
"The services, discounts and customized care I receive with my V.I.P. membership is much more than I expected. However, the compliments I receive from family and friends for looking 10 years younger are priceless!"
— MaryAnn P.
Read more patient testimonials.
Can I just get BOTOX Cosmetic injections at a day spa?
BOTOX is offered at many day spas, which often aren't operated under the supervision of a qualified medical director. It's important to have peace of mind whenever you undergo a medical procedure, including cosmetic injections. BOTOX is a very safe product when injected by experienced medical professionals. Some of these clinics do cheap injections because they dilute the BOTOX or even use counterfeit products!
Besides safety, another benefit of visiting a comprehensive plastic surgery practice and medical spa is that our team can make recommendations about other treatments that might benefit you. Many BOTOX Cosmetic patients elect other medical spa treatments or products to complete their facial rejuvenation.
Does BOTOX work for treating tired-looking eyes?
Combined BOTOX and dermal filler treatments work beautifully for waking up tired-looking, aged, or worn-out eyes. BOTOX smooths away crepey wrinkles around the corners of the eyes and between the eyebrows, while fillers add volume to hollows and disguise puffy bags. Together, these treatments are especially popular for eye rejuvenation.
What age should I begin to get BOTOX Cosmetic?
More patients in their 20s and early 30s are getting BOTOX injections to reduce forehead wrinkling and crow's feet around the eyes. Those dynamic wrinkles are caused by frequent movement of facial muscles, and they can develop earlier in some people. There is also some evidence that BOTOX can have a preventive effect if it is started earlier.
What are the side effects of BOTOX injections?
BOTOX is proven to be a safe and gentle treatment when administered by a trained, qualified provider, but some patients occasionally experience side effects. The most common issues are slight bruising or swelling at the injection site or headaches. Less common side effects reported include dry mouth, neck pain, and flu-like symptoms. More severe side effects, such as droopy or swollen eyelids, are extremely rare.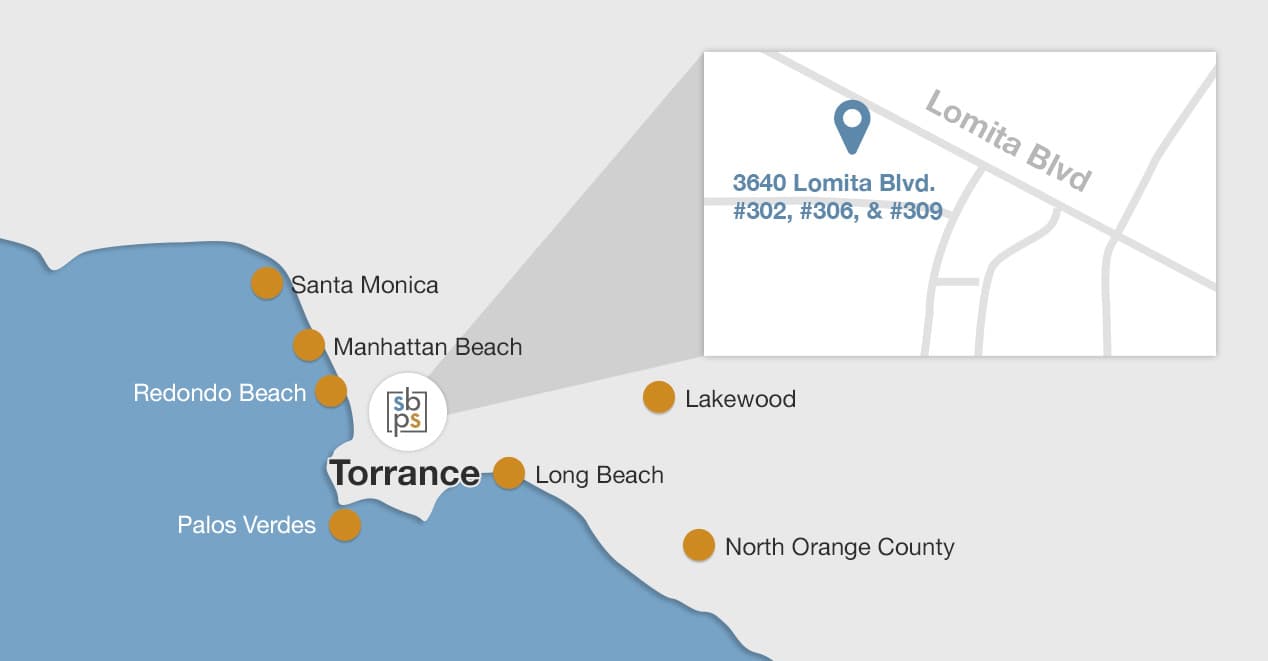 Back to Top