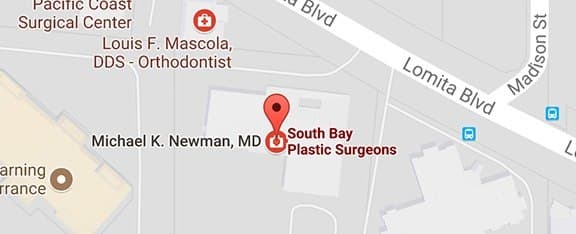 South Bay Plastic Surgeons
3640 Lomita Boulevard #306
Torrance, CA 90505
Phone: (310) 784-0644
Monday-Friday: 9 a.m.–5 p.m.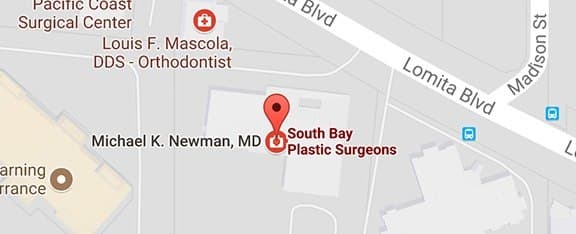 The Spa at South Bay Plastic Surgeons
3640 Lomita Boulevard #309
Torrance, CA 90505
Phone: (310) 784-0670
Monday-Friday: 9 a.m.–6 p.m.
Wednesday: 9:00 a.m.–8 p.m.
Saturday: 9 a.m.–4 p.m.


Skin Care Products
Our skin care specialists in Torrance can help you on your path to healthy, beautiful skin. Skin care in sunny areas like Torrance, Redondo Beach and Hermosa Beach must include sun protection, as well as anti-aging and renewing components. At The Spa at South Bay Plastic Surgeons, we help you protect and rejuvenate your skin daily with top quality skin care products that nourish, protect, and revitalize.
Request a consultation online to meet with one of our medical spa aestheticians, who can recommend the right skin care products for you. Or call us at (310) 784-0644 to schedule your appointment.
Why Skin Care Matters
Skin health is often overlooked, even by those with otherwise healthy and active lifestyles — but it's the key to a refreshed, youthful appearance. At The Spa at South Bay Plastic Surgeons, we proudly offer some of the most effective and respected medical-grade skin care product lines available.
Together, they are designed to address the following conditions:
Acne
Sun damage
Lines and wrinkles
Uneven pigmentation
Rosacea
Inflammation
Beyond treating existing concerns, a daily skin care regimen reinforces good skin health by promoting a range of skin care goals:
Reinforcing skin structure
Improving skin tone
Softening rough skin
Moisturizing and protecting skin
Maintaining youthful skin properties
Skin Care Product Menu
SkinCeuticals®
SkinCeuticals develops products that go through rigorous medical-grade clinical testing to ensure the effectiveness of the formulations. SkinCeuticals products can be part of your daily skin care routine, and they make an excellent complement to nonsurgical aesthetic procedures
Products available:
Sunscreen
Antioxidants
Corrective serums
SkinMedica®
The TNS Ceramide Treatment Cream™ is a rich cream with peptides and a patented growth factor blend (TNS). It goes beyond what an ordinary moisturizer can do, rapidly restoring moisture balance to post-procedure and compromised skin.
Revision® Skincare
The Revision Skincare line focuses on reversing signs of aging.
Teamine® Eye Complex is the best-selling eye cream for dark circles. With regular, twice daily use, you'll see improvement in approximately 4 to 6 weeks.
Nectifirm® firms and tightens slackened skin by 40% in 28 days. It also smooths away roughness and reduces the crepey appearance of the neck.
Intellishade® SPF 45 is a tinted anti-aging moisturizer that feels like silk. It matches your skin tone to give your face a sheer, healthy color.
ZO® Medical
The ZO Medical line uses proven formulas to treat skin conditions topically. Versatile and therapeutic, the products are safe for patients of all ages, for a variety of disorders and chronic conditions.
You will see immediate (and excellent) results with these products, which are designed to help maintain strong, smooth, and healthy skin. The ZO Medical line, in tandem with the ZO Skin Health line, can work together to accomplish a range of skin care goals.
Back to Top