South Bay Plastic Surgeons
3640 Lomita Boulevard #306
Torrance, CA 90505
Phone: (310) 784-0644
Monday-Friday: 9 a.m.–5 p.m.

The Spa at South Bay Plastic Surgeons
3640 Lomita Boulevard #309
Torrance, CA 90505
Phone: (310) 784-0670
Monday-Friday: 9 a.m.–6 p.m.
Wednesday: 9:00 a.m.–8 p.m.
Saturday: 9 a.m.–4 p.m.

Massage Services
Treat your mind and body to a transformation with massage therapy services in Torrance, CA. At The Spa at SBPS, you can discover how great it feels to let go of the tension you've been holding and step into a more relaxed state of mind and body.
Whether you are looking for a calming reprieve from your routine, deep tissue work, lymphatic drainage after surgery, or more, you'll find it in the skilled hands of our experienced bodywork team.
What Are the Benefits of Massage Therapy?
Massage increases circulation, helping to: 
Relax muscle spasms, relieve tension, and improve tone 
Return blood flow to the heart 
Prevent or delay muscle atrophy resulting from forced inactivity 
Stimulate lymphatic circulation, eliminating wastes and debris 
Potentially move material in the intestines, reducing constipation 
Massage also offers other physical benefits, including working to stretch fascia to increase range of motion. It prevents the formation of adhesions and decreases discomfort, inflammation, swelling in the joints, and edema. For those with injuries, massage is a valuable tool for facilitating movement during rehabilitation. 
We receive emotional and mental benefits from massage, too, including: 
Reduced sense of isolation, especially for the sick and elderly 
Increased overall sense of well-being 
Release of repressed emotional energy 
Additionally, massage engages the parasympathetic nervous system, reducing insomnia and contributing to overall relaxation. No matter which of our massage services you pursue, you can count on feeling refreshed and rejuvenated from head to toe.
Relaxation Massage (Swedish)
This very relaxing and therapeutic style of bodywork combines oils or lotion with various strokes, such as rolling, kneading, and percussion to promote circulation.
Benefits
Relief from aches and pains
Decreased stress levels in the body
Enhanced mental clarity
Improved appearance
Greater flexibility
A Reputation Built on Results
Jessica was my facialist and did a great job. My face felt great the rest of the day!
Wonderful experience. Really professional and friendly staff. Love the results. Jeremy is the best,...
Had a Facial. It was amazing.
She does my facials and makes me feel so calm and relaxed after my treatment.
Deep Tissue Massage
Deep tissue massage releases areas chronically stressed by misalignment, repetitive motions, and past lingering injuries.
Due to the nature of the deep tissue work, it's important to communicate with your therapist about your comfort levels during your session. Many people feel soreness after this type of work. Drinking plenty of water will flush out the toxins your deep tissues released during the treatment.
Benefits
Decreased pain
Increased energy and range of motion
Release of tense fascia, chronic holding patterns, and "knots"
Supply of blood, water, and nutrition throughout the body
Pregnancy Massage
Pregnancy brings about exciting physical and emotional changes, but it can also put stress on the mind and body. Pregnancy massage melts away aches and pains using techniques specifically developed for expectant mothers.
Benefits
Emotional support
Relief of joint pain due to extra weight and postural imbalance
Improved breathing and relaxation
Reduced swelling and blood pressure
Increased blood and lymph circulation
Shiatsu Massage
Shiatsu is a healing treatment for the mind, body, and spirit whose name comes from two Japanese words: "shi" (finger) and "atsu" (pressure). This technique combines gentle stretching with the direct stimulation of pressure points along energy pathways. Together, these approaches encourage the flow of chi (energy) throughout the body.
Benefits
General relaxation and decrease in stress 
Balanced energy and increased sense of well-being 
Increased range of motion in joints and decreased joint pain 
Improved circulation 
Help with backache and neck and shoulder stiffness 
May alleviate sinus congestion and headache 
Help in disease prevention
Lymphatic Massage
A favorite post-op treatment of our plastic surgery patients, lymphatic massage encourages the flow of lymph fluids throughout your body. This decreases swelling and speeds up your natural healing process.
Scalp Massage
Scalp massage relaxes the mind and encourages circulation, which studies show may stimulate hair growth and thickness. An aromatherapy blend is applied to the scalp to relieve stress and reduce tension in the head and scalp.
Upper Extremities Massage
This customized massage mainly targets the upper back and shoulder region along with the head and neck. It uses different techniques to help relieve muscle tension, pain, and tightness.
Lower Extremities Massage
This customized massage targets the glutes, thighs, hamstrings, and feet. It involves a range of different techniques that help reduce muscle tightness, relieve pain, and increase blood circulation.
Who Should Not Receive Massage Therapy?
Certain massage services may not be right for you if you have any of the following conditions:
Active rashes, bruises, burns, sunburns, or wounds
Active cold or flu
Skin conditions such as dermatitis, eczema, or psoriasis
Acute muscle tears or inflamed joints
Osteoporosis or bone fractures
Cardiovascular diseases (a caution)
Varicose veins or deep vein thrombosis
High blood pressure or epilepsy (for work on the top of the head) 
Gross edema (swelling) when seeping or danger of skin splitting
Lack of sensation caused by medication, nerve injury, and so on
Very hairy areas (could be painful; we will use more oil or lotion to keep you comfortable) 
First 3 months of pregnancy (for shiatsu massage)
Certain areas may be avoided during pregnancy
In some cases, massage can be done while avoiding direct contact with the affected area or using adjusted pressure.
Your Consultation
If you would like to learn more about our Torrance massage services and whether they are right for you, please request a consultation online or call (310) 784-0644 . The Spa at SBPS welcomes massage therapy clients from Manhattan Beach, Redondo Beach, and throughout the Los Angeles area.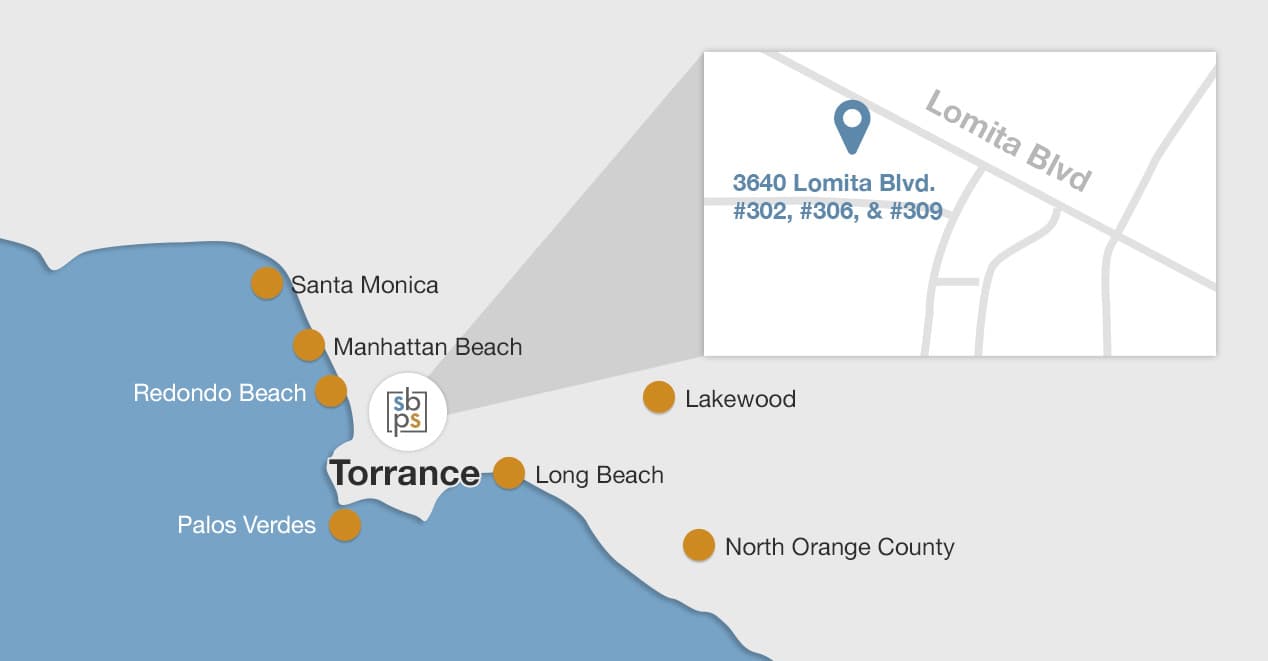 Back to Top